Moving & Storage Supplies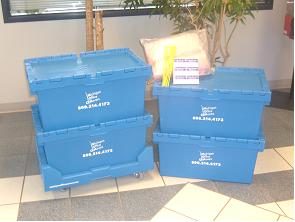 Do you need cardboard boxes for moving or storage?
We've got plenty to choose from! From regular cartons to archive boxes with handles, to specialty packing boxes like wardrobe containers and mirror boxes.
Plus all the other packing materials you need to pack up your belongings safely for moving or storage: mattress storage bags, bubble wrap, clean newsprint, tape and more!
---
Are you wondering how many boxes you'll need?
Not sure how much tape and plastic wrap to buy?
We can help.
---
We have handcarts and appliance dollies for you to rent, to help save your back and make your move much easier. You can also rent moving blankets and floor runners to help protect furniture and carpets when moving in and out of your home or office.
Follow this link to find out more about our moving equipment rentals.
Pick up your supplies while you're here!

All our moving boxes and other packing supplies are available for sale at our Ann Arbor location of Offsite Warehouse.
Pick up what you need when you come to set up your storage rental! Please drop by the store for exceptional deals on moving and storage supplies!
Request Your Quote
If you wish to ask about our services or related pricing via email, please use the form below. For more immediate response, please call us right now at (734) 929-1139. Either way, we look forward to hearing from you and will respond as soon as possible.